DKMJ-J DC Filter Capacitor
Refernce Standard:IEC 61071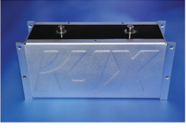 Features
1. Aluminium alloy case,dry-type,excellent heat dissipation.
2. Less ESR,developed for high ripple currents.
3. Less stray inductance ,good stability,reliability and lifetime.
4. Metallized polypropylene film,filled with heat conducting compound.
5.TüV&CE Certificate
Applications
DC filtering for:windmils,solar power station,high voltage frequency converter,electric locomotive,subay and light rail,welding machine,elevator,etc.
Electrical Specifications
Capacitance(Cn): 80μF to 3000μF
Capacitance Tolerance: ±10%
Voltage Range(Un dc): 450V to 3200V
Maximum Current(Irms max.): 113Arms
Stray Inductance(Ls): ≤100nH
Life expectancy: 100,000hours(70℃,額定電壓下)
Test Voltage between terminals(25°C): 1.5Un 10s
Test Voltage between terminals and case(25°C): (1.5Un+1000)Vac 50Hz 1min.
Technical data
規格型號

Cn

(μF)

L

(mm)

H

(mm)

h

(mm)

Lsmax.

(nH)

dv/dt

(V/μs)

Irmsmax.

(A)

ESR

(mΩ)

Rth

(℃/W)

Weight

(kg)

Un 800V

DKMJ-J 800-1150

1150

230

115

60

100

8

63

1.82

1.43

3.2

DKMJ-J 800-1720

1720

230

155

80

100

7.3

83

1.38

1.15

4.5

DKMJ-J 800-2600

2600

230

220

100

100

6.4

113

1.00

0.97

6.3

Un 1000V

DKMJ-J 1000-720

720

230

115

60

100

10

61

2.04

1.43

3.2

DKMJ-J 1000-1100

1100

230

155

80

100

9.2

80

1.52

1.15

4.5

DKMJ-J 1000-1700

1700

230

220

100

100

8

110

1.08

0.97

6.3

Un 1200V

DKMJ-J 1200-500

500

230

115

60

100

12

58

2.26

1.43

3.2

DKMJ-J 1200-750

750

230

155

80

100

11

76

1.66

1.15

4.5

DKMJ-J 1200-1150

1150

230

220

100

100

9.6

105

1.18

0.97

6.3

Un 1400V

DKMJ-J 1400-370

370

230

115

60

100

14

57

2.44

1.43

3.2

DKMJ-J 1400-550

550

230

155

80

100

12.8

76

1.80

1.15

4.5

DKMJ-J 1400-850

850

230

220

100

100

11.2

105

1.26

0.97

6.3

Un 1600V

DKMJ-J 1600-280

280

230

115

60

100

16

55

2.66

1.43

3.2

DKMJ-J 1600-420

420

230

155

80

100

14.7

75

1.94

1.15

4.5

DKMJ-J 1600-640

640

230

220

100

100

12.8

100

1.36

0.97

6.3

Un 2000V

DKMJ-J 2000-220

220

280

115

60

100

20

36

6.14

1.43

3.2

DKMJ-J 2000-330

330

280

155

80

100

18.3

48

4.46

1.15

4.5

DKMJ-J 2000-440

440

280

220

100

100

16

62

3.24

1.03

6.3

Un 2400V

DKMJ-J 2400-150

150

280

115

60

100

24

35

6.92

1.43

3.2

DKMJ-J 2400-230

230

280

155

80

100

22

47

4.96

1.15

4.5

DKMJ-J 2400-300

300

280

220

100

100

19.2

61

3.62

1.03

6.3

Un 2800V

DKMJ-J 2800-110

110

280

115

60

100

28

33

7.56

1.43

3.2

DKMJ-J 2800-165

165

280

155

80

100

25.7

45

5.22

1.15

4.5

DKMJ-J 2800-220

220

280

220

100

100

22.4

60

3.94

1.03

6.3

Un 3200V

DKMJ-J 3200-84

84

280

115

60

100

32

32

8.28

1.43

3.2

DKMJ-J 3200-130

130

280

155

80

100

29.4

45

5.68

1.15

4.5

DKMJ-J 3200-170

170

280

220

100

100

25.6

58

4.28

1.03

6.3
(We can design products according to customer's specific requirements)